Welcome to "Kids & Family Chiropractic.Mita"!
Dr. Haruka offers chiropractic services in English.
【Office Information】
Offering wellness care to babies, children, adults and pregnant women in the vicinity of JR Tamachi station and Subway Mita station in Tokyo, Japan.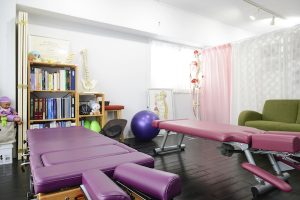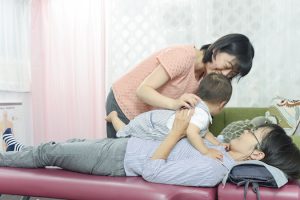 Address
Futaba Bldg. Room 604, 3-4-18 Mita, Minato-ku, Tokyo 108-0073, Japan
Phone: 03-6809-5570
※ If you need a quick response, please contact us from the Contact Form >> click here
※ If you get an answering machine, please leave your name, your phone number and a short message. We will call you back as soon as possible.
Access & Map
– 5 min walk from the West Entrance of JR Tamachi station (JR Yamanote Line or JR Keihin-Tohoku Line)
– 4 min walk from Exit A3 of Subway Mita Station (Toei Asakusa Line or Toei Mita Line)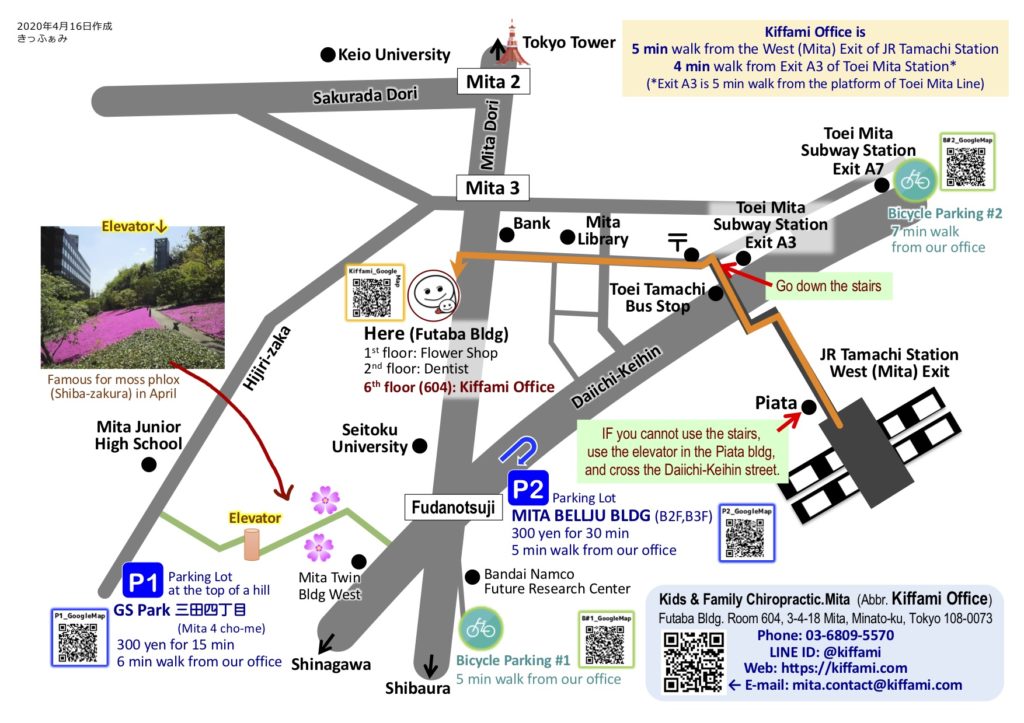 You can download the PDF map HERE (please click) >>
【Bicycle-Parking Area Info】
Bicycle Parking #1
Name: 田町駅西口第1暫定自転車等駐車場
Google Map: https://goo.gl/maps/upPGnbjtpx8BE7UR9
Parking Fee: Free for 2 hours
5 min walk from the Kiffami office

Bicycle Parking #2
Name: 田町駅西口第2・第3・第6暫定自転車駐車場
Google Map: https://goo.gl/maps/uLq6CreoaEuAPzWm9
Parking Fee: Free for 2 hours
7 min walk from the Kiffami office
 
【Parking Lot Info】
P1
Name: GS Park 三田四丁目 (Mita 4-chome)
Address: 4-16-26 Mita, Minato-ku
Google Map: https://goo.gl/maps/BFaotcR6vMHt2v8u6
Parking Fee: 300 yen for 15 min
6 min walk from the Kiffami office
 
P2
Name: MITA BELLJU BLDG(B2F, B3F)
Address: 5-36-7 Shiba, Minato-ku
Google Map: https://goo.gl/maps/f81nKTAkiTEmAhFE8
Parking Fee: 300 yen for 30 min
5 min walk from the Kiffami office
Office Hours
*Appointments are required
Tuesday, Wednesday, Friday and Saturday: 10am-8pm
Health Care Workshop (Japanese): Saturday 1:30pm-2:30pm
【About Doctor】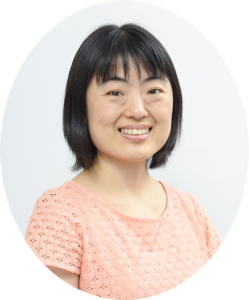 Haruka Yamazaki, D.C., Ph.D. is a Georgia state (U.S.) licensed Chiropractor offering wellness chiropractic care in English in the Minato-ku, Tokyo area. She is a native of Meguro-ku, Tokyo, Japan and earned her Ph.D. (Biotechnology) from the University of Tokyo in 2003. After 8 years of working as a scientific researcher in the molecular biology field, she had a strong desire to explore the abilities of human body, and decided to study overseas to be a Doctor of Chiropractic (D.C.). She graduated summa cum laude from Life University, Georgia, U.S., earned her D.C. in 2015 and obtained her Georgia state chiropractic license in 2015. She also obtained special post-graduate trainings in chiropractic care for children and pregnant women under the ICPA certification program (Click Here to know the ICPA>>). After a chiropractic internship in Massachusetts, U.S., Dr. Haruka returned to her hometown and opened Kids & Family Chiropractic.Mita in Tokyo, Japan.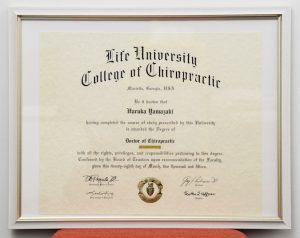 Doctor of Chiropractic degree
Summa cum laude from Life University in March 2015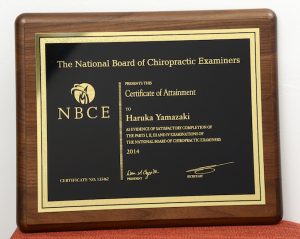 2014 NBCE Certificate of Attainment
2013 Certificate of Proficiency in the Webster Technique
【What to Expect】
There are three general phases of chiropractic care…
Phase 1: Relief Care
If you are in pain when you come into our office, the first objective is to help you feel better. Depending on the severity of your problem, patients typically need care 2-3 times per week for 1-3 months. Your condition will be reevaluated periodically to determine your next phase of care.
Phase 2: Restorative Care
During the restorative phase of chiropractic care, muscles and other soft tissues are allowed to heal more thoroughly. The goal of restorative chiropractic care is to help bring your body back to an optimal state of functioning. It is typical for patients to require chiropractic care for 1-2 times per week for 6-24 months, depending on their overall health and lifestyle.
Phase 3: Wellness Care
Once your body has fully healed and you are no longer experiencing symptoms, chiropractic care provides your optimal health to overcome stress and enjoy your life, full of energy. You can visit to the chiropractor 1-2 times per month, based on your lifestyle and goals.
Your First Visit
*About 70 min. Appointment is required.
Welcome to our office!
1) Please complete our New Patient Form at our office
This paperwork provides us with your health history and information on your condition.
2) Consultation
You will have a consultation with Dr. Haruka to discuss your health-related problems, concerns and your goals. This initial visit is designed to help us to learn more about you and your expectations, and to determine how chiropractic care can help you meet your goals.
3) Examination
Dr. Haruka will perform a complete chiropractic examination, testing your reflexes and flexibility. Other standard neurological, orthopedic, postural and physical tests will be performed as well.
4) Referral to MDs when needed
Depending on your specific condition, we may refer you to a medical doctor to take X-rays, perform an MRI, or have a medical evaluation, which allow us to develop the most effective care plan.
5) Payment for the Initial visit and Appointment for your next visit
¥7,000 +tax for the Initial visit including Consultation, Examination, Report of Findings and Care Planning. You will have Report of Findings and Care Planning on your second visit without any additional fee.
Click Here for our Fee Structure >>
Your Second Visit
*About 40 min including chiropractic adjustment.
1) Report of Findings and Care Planning
(Fee is included in your Initial visit fee.)
You will obtain a detailed report of your first visit examination and a care plan to achieve your goals. The doctor will answer any questions you have including: How can you help me? How often do I need to come in? What will my care plan cost? If you agree with our office policy and care plan, you will proceed to the next step.
2) Chiropractic Care and Recommendations
After adequate evaluation of your body condition, Dr. Haruka will provide spinal adjustments with thorough explanation to answer all your concerns. After adjustments, the doctor will provide advice and recommendations to achieve healthy daily life. You will be required to attend a free Health Care Workshop held on Saturday 12-1pm at our office, to obtain maximum benefits from your care plan.
3) Payment for Chiropractic Care
You can choose to pay the one-time fee ¥6,000 +tax or a book of tickets.
Click Here for our Fee Structure >>
Your Regular Visit
*About 15 min.
You will obtain spinal adjustments and recommendations depending on your care plan and daily body condition. Please tell to the doctor if you have any changes in your health condition or any concerns after last visit.
Re-examination
*About 40 min with a regular adjustment.
Your health progress will be re-examined after a certain number of visits, depending on your care plan, without any extra charge.
Progress Report
*About 30 min with a regular adjustment.
In your next visit after Re-examination, you will obtain a progress report of your health condition. Dr. Haruka will re-evaluate your care plan, depending on your progress and your goals. The doctor will give advice and make recommendations for the next health step.